Events
We had a sponsored walk around the village and school field. The weather was perfect and money was raised for school funds and visits out.
Class 2 took part in the Spring Bulb Project run by The Museum of Wales and in association with the Edina Trust.
The school were the runners up (2nd place) out of 34 English Schools and joint runners up, along with 3 other schools (joint 2nd place) out of 115 schools in the United Kingdom.
This term Class 1 are going to see the Humber Bridge and Waters Edge habitat, Class 2 are going to Woodside and Class 3 to Eureka.
Bags to school will be here 24th May 2018
Thank you to everyone who attended the Easter BINGO event. We raised £330 for school funds and the new iPads.
Sorry for the inconvenience over closures due to snow. We will be open on Monday 5th March
John Parnell, Britain's Got Talent HOOP GUY, came for the day to teach us the skill of hula hooping. All the children had a fantastic time with John and we were impressed by the children's hooping skills.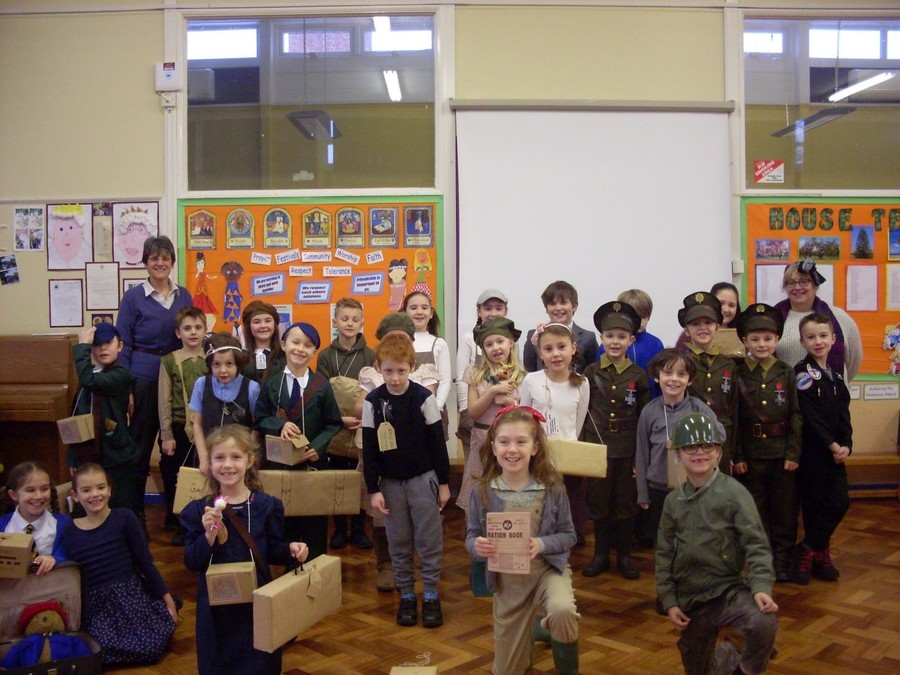 As part of our WW2 Topic, Class 2 held a Victory party day. The children were encouraged to dress up as someone in the 1940s – and they did us proud.
In the afternoon, we had an afternoon tea party with sandwiches and cakes you might have eaten during the war.
We invited some people from the local area to share our food and talk to us about their memories of the war. We sang carols together and everyone had a lovely time.
Visit to RAF Scampton
Indian culture day
Harvest festival
Book Fayre
School Council event
Christmas concert and lunch
Christmas fayre
Museum of Wales and the Edina Trust Spring Bulb Project
Since October 2005, school scientists across Wales have been keeping weather records and noting when their flowers open, as part of this long-term study looking at the effects of temperature on spring bulbs. We continue to work in partnership with the Edina Trust who support and fund the project. The Edina Trust have been running an extension project since 2011, National Museum Wales core project and extending its reach to selected schools in England and Scotland.
In April 2017, the school was invited to put forward an application to join the Spring Bulb project.
Places were limited so the application process was very important. I am pleased to say that we were accepted onto the project.
The project involves planting and adopting our own spring bulbs to help Professor Plant investigate how the changing seasons are affecting spring flowers. It runs from October 2017 to March 2018.